Join me in supporting The Food Bank of Western Massachusetts!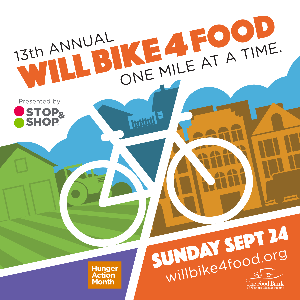 Join us September 24th for The Food Bank's 13th annual Will Bike 4 Food presented by Stop & Shop at the Lion's Club Pavilion in Hatfield. Last year we beat our $250,000 goal- with your help we can do it again! Let's ride together so our communities can thrive together.
In addition to raising awareness, Will Bike 4 Food raises funds that are vital to the success of the mission of The Food Bank of Western Massachusetts.

By donating, you're helping me provide meals for neighbors in need, and letting
friends, family, coworkers, customers, and clients
know that ending hunger in Western Massachusetts is an issue that's important to you.
View More
Achievements

I Made a Difference!
I supported this event with a personal donation.